Skip to content. Skip to main navigation.
2020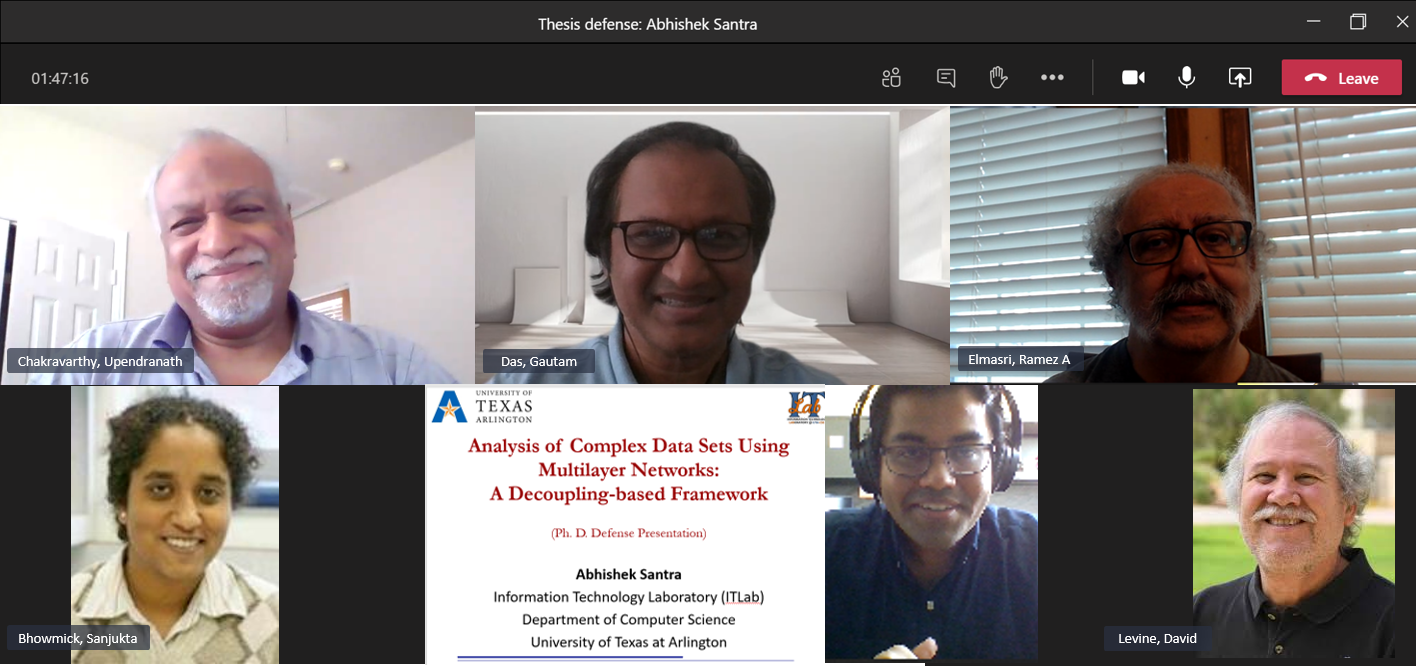 ---
Paper accepted to ER2020: EER→MLN: EER Approach For Modeling, Mapping, And Analyzing Complex Data Using Multilayer Networks (Kanthi Komar, Abhishek Santra, Sanjukta Bhowmick, Sharma Chakravarthy)
---
NSF Grant (7/2020 to 6/2023), ~1M total: Collaborative Research: SHF: Medium: NetSplicer: Scalable Decoupling-Based Algorithms for Multilayer Network Analysis (UTA: Sharma Chakravarthy, UNT: Sanjukta Bhowmik, PSU: Kamesh Madduri)
---
---
---
---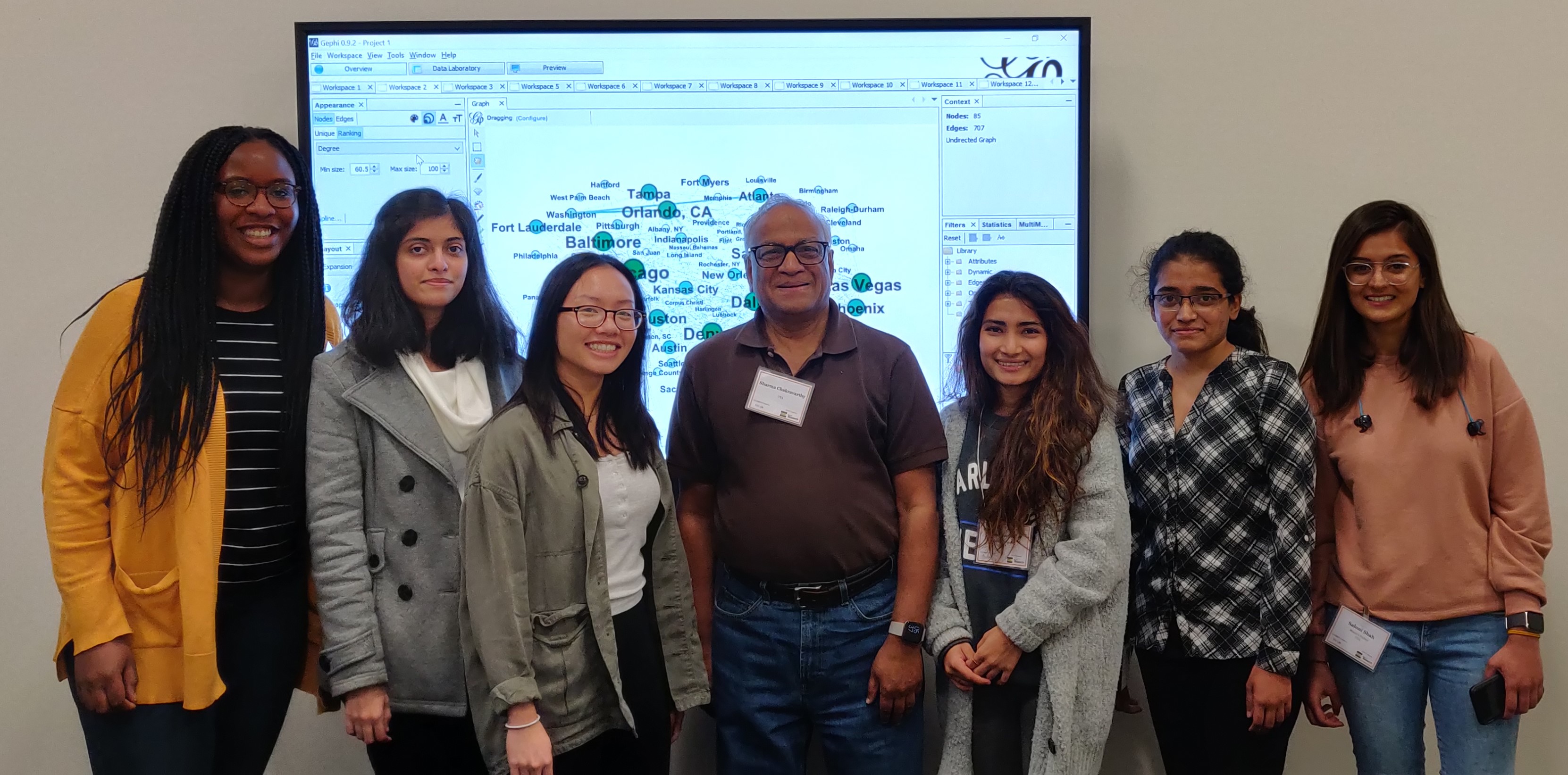 ITLab organized the workshop - "Analysis of Social and Other Complex Networks and Result Visualization" at OurCS@DFW from February 14-16, 2020
---
Sharma Chakravarthy is a Fulbright Specialist (2019-2022)
---
IT Lab paper on "Query Processing on Large Graphs: Approaches to Scalability and Response Time Trade-Offs" will appear in Data and Knowledge Engineering Journal (DKE), 2019
---
Sharma Chakravarthy and Abhishek Santra are giving a Tutorial on Big Data Analytics using Multilayer Networks at BDA 2019 in Ahmedabad, India
---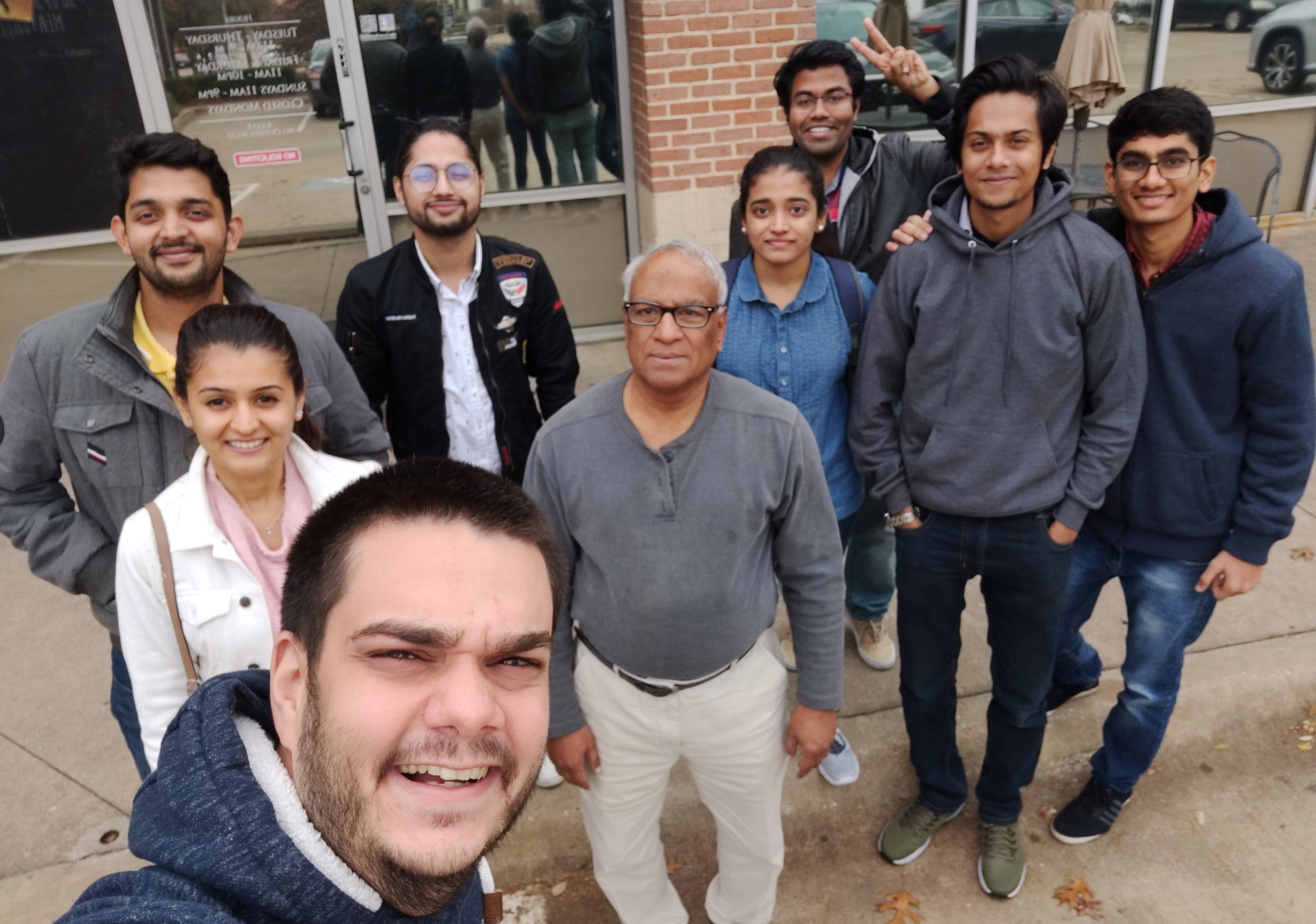 Thanksgiving Lunch on November 22, 2019
---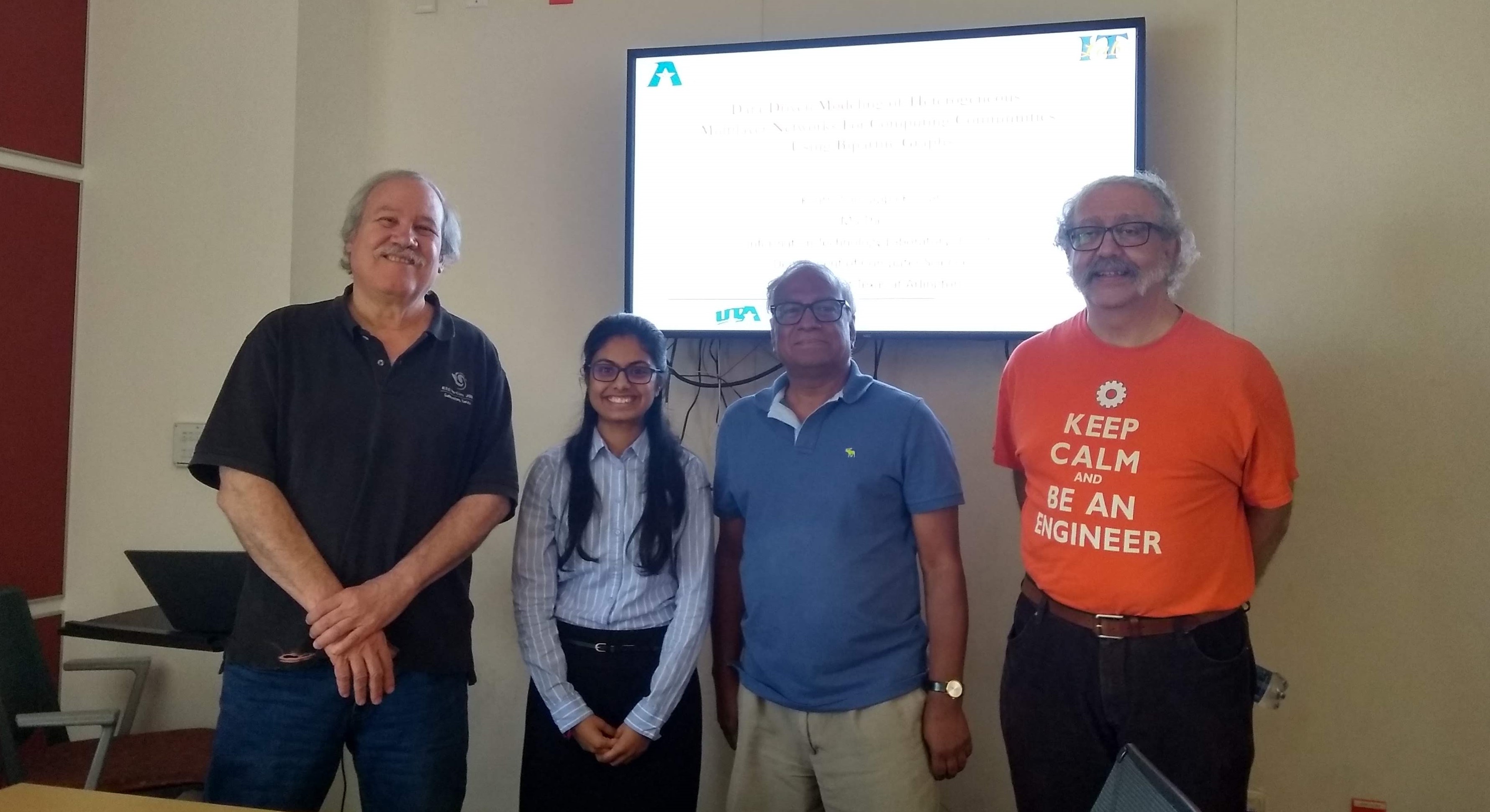 ---
---
Sharma Chakravarthy is ACM Distingusighed Speaker
---
Sharma Chakravarthy is a PC co-chair for DEXA 2019 in Linz, Austri.
---
IT Lab paper "Duplicate Reduction in Graph Mining: Approaches, Analysis, and Evaluation" was accepted to TKDE (IEEE Trans. on Knowkledge and Data Engineering", 2018
---
Sharma Chakravarthy give an invited talk at BDA 2018 in Warangal, India in Dec 2018. Title: Humble Data Management to Big Data Analytics/Science: A Retrospective Stroll
---
The Swedish Foundation for International Cooperation in Research and Higher Education (STINT) has funded a project - "Multilayer Networks Approach to Community Detection in Heterogeneous Personal Data" for 1 year (2018) (Lili Jiang - PI from Sweden, Sharma Chakravrthy - PI from USA).
---
---
---
---
---
The paper - "HUBify: Efficient Estimation of Central Entities across Multiplex Layer Compositions" presented at the 7th IEEE ICDM Workshop on Data Mining in Networks on November 18, 2017 held at New Orleans, USA (Abhishek Santra, Dr. Sanjukta Bhowmick, Dr. Sharma Chakravarthy).
---
---
---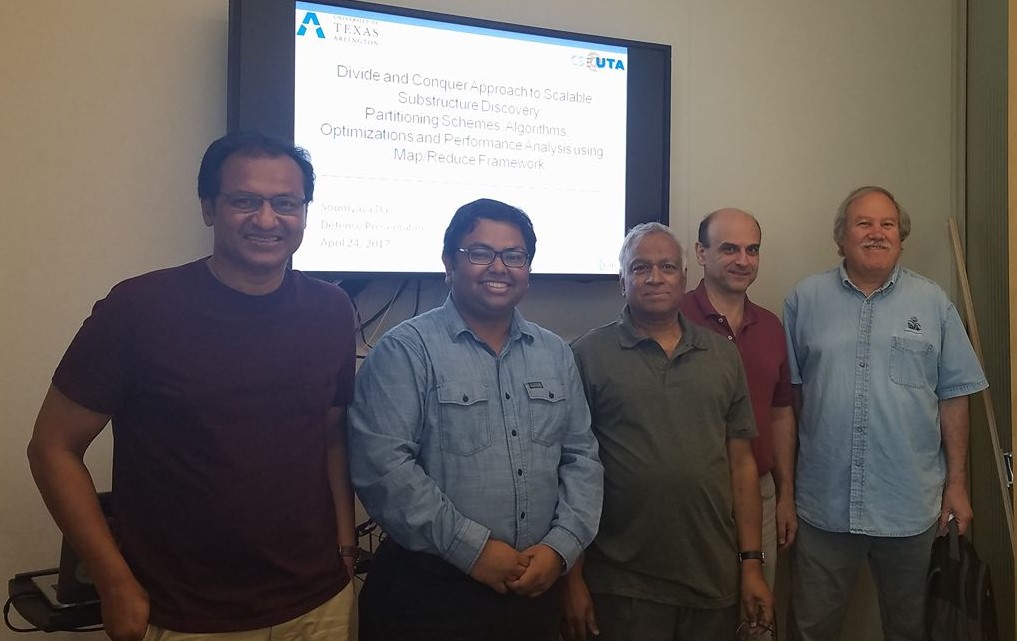 ---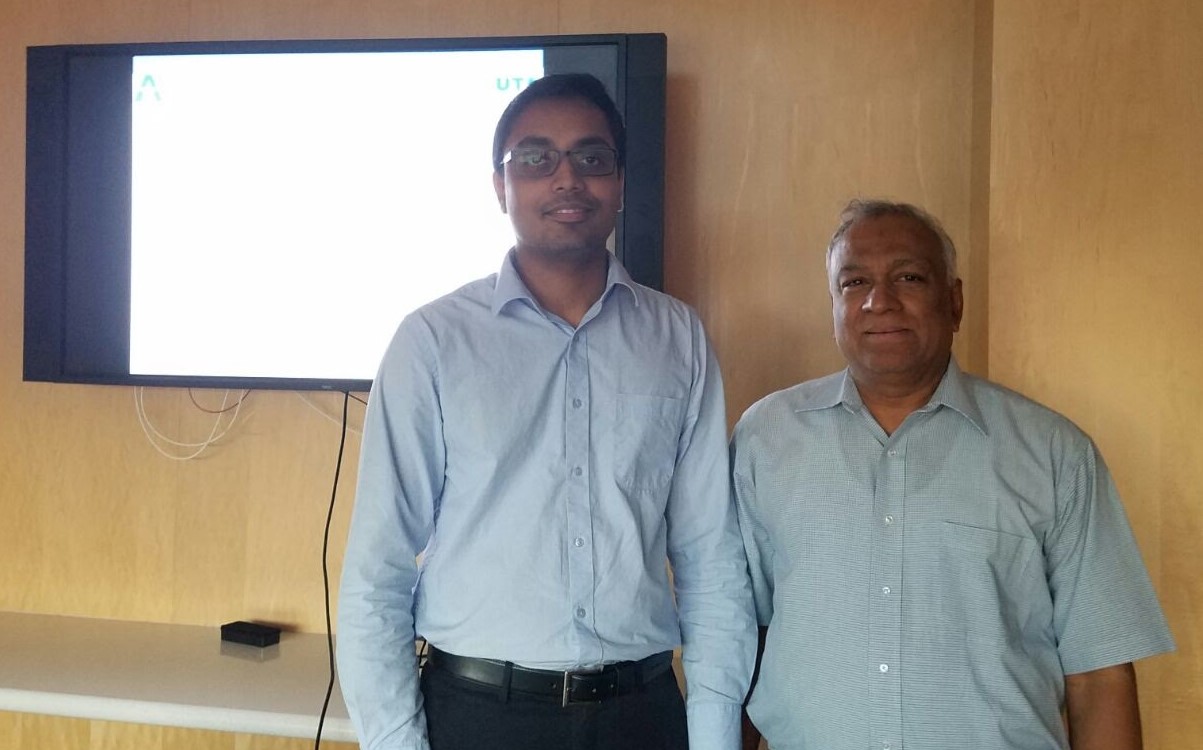 ---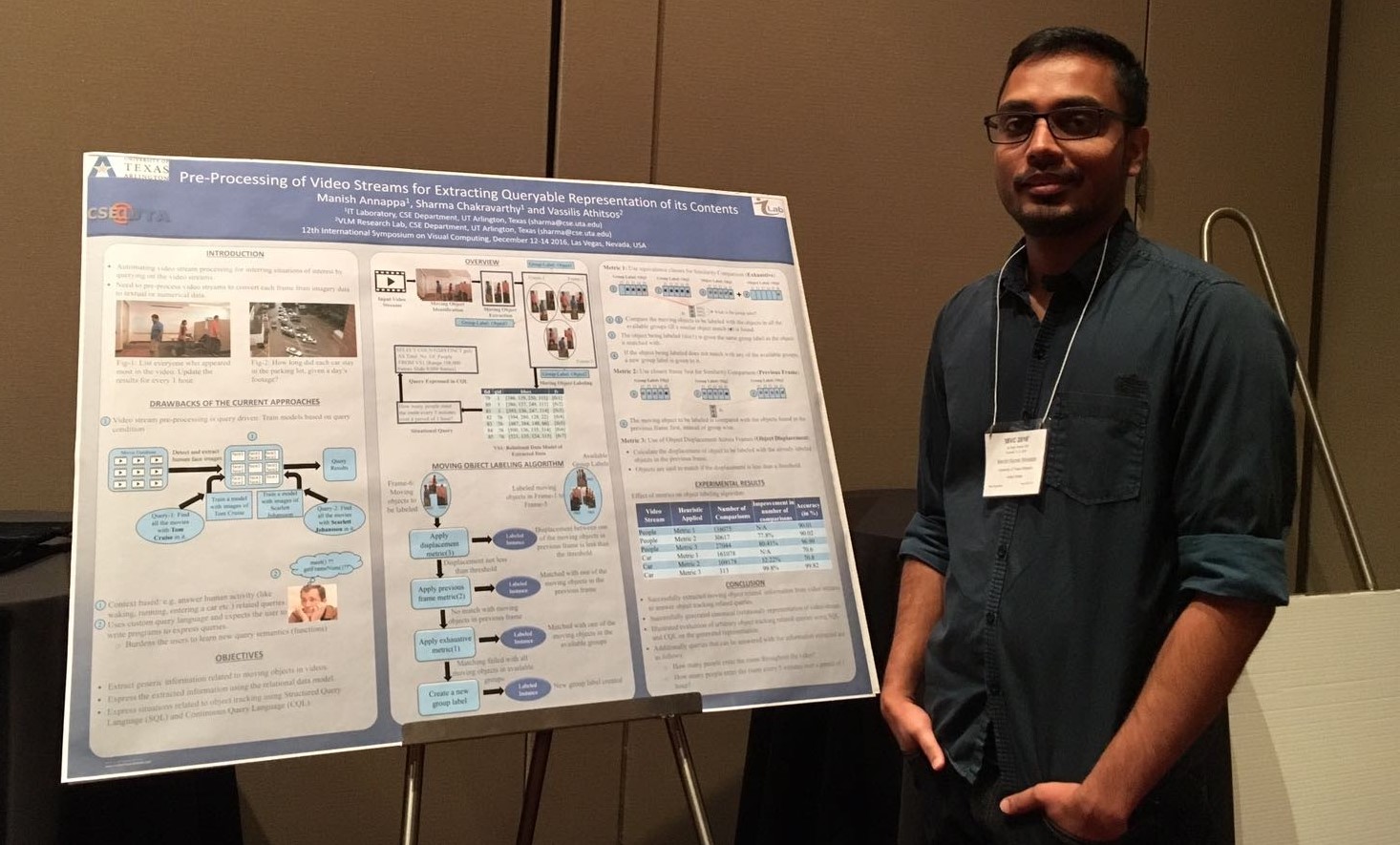 ---
---
Mr. Jay D. Bodra graduated in May 2016. His MS Thesis topic was PROCESSING QUERIES OVER PARTITIONED GRAPH DATABASES: AN APPROACH AND IT'S EVALUATION.
---
---
---